History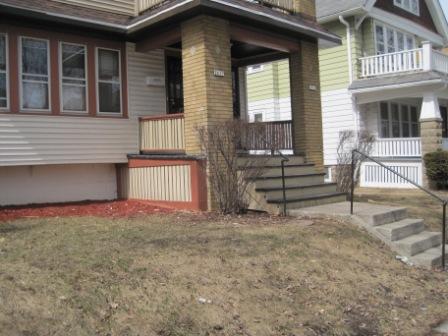 T. L. Reese's (Cream City Builder's) first project began on Thursday, October 1, 1992. The project was a porch demolition / replacement for $500.00 on North 51st Street in Milwaukee (image right). After our initial project, we focused on residential renovations and maintenance projects for landlords, tenants and home owners. We worked with and trained people from our neighborhood with the desire to learn a trade to execute our projects. After a few years we began renovations for local small commercial businesses, churches and rental rehabilitations in Chicago. For the first thirteen years the business remained small and on a part time basis.
In 2005 Troy Lamont Reese decided to make T. L. Reese a full time venture and founded our initial family of companies (T. L. Reese Construction, T. L. Reese Corporation, T. L. Reese Homes & T. L. Reese Properties). We are construction and real estate based businesses, with a primary focus on the construction, maintenance and management of facilities. Over the years T. L. Reese has developed into one of the leading African American Owned Contractors in the region.
Jon Mathews (Master Electrician) co-founded a minority owned electrical contracting firm in 2005. In 2007 he merged his company with another electrical firm creating one of the top 3 African American owned and operated electrical contracting firms in Milwaukee. In 2010 Jon sold his interest in his electrical company to form T. L. Reese Electrical Systems with Troy L. Reese. Jon is the Executive Vice President and Managing Partner of T. L. Reese Electrical Systems.